GUITAR BUILDING FOCUS PROGRAM
Build a beautiful custom solid-body electric guitar or bass
Program Description
This activity-based course will cover topics such as safe shop practice, the elements and principles of guitar design, the use of jigs and templates, wood selection, shaping, joinery, electronics, proper set-up and finishing techniques.
Students learn the skills necessary to achieve the highest standard of craftsmanship possible.
Students will develop their design; building production jigs and templates, then manufacture a full size prototype model in poplar and maple prior to their real guitar or bass.
Students will keep a journal during the building process. The Journal includes specific dimensions, cutter selection and building procedure. This information will develop into a "how to build a guitar or bass" procedure document which will be used to construct the final guitar or bass.
The Guitar Building course is a great opportunity for students to develop transferable skills and solve complex design problems in a challenging and positive experiential learning environment.
Benefits of the Program
Students will be challenged and face adversity during the building process. At times, parts will need to be discarded in order correct a mistake. The risk and thrill of shaping the back of a neck, millimeters away from a truss rod cavity is an immeasurable feeling.
Students develop transferable skills that may not appear to be specific to building an instrument such as; The importance of overcoming problems through solutions, proper planning, time management, assessing risk, learning through failure, building self confidence, recognizing value in labour, recognizing quality craftsmanship and seeing things through to completion.
This challenge has incredible personal rewards. Students who have taken the Guitar building program have continued into post secondary programs in engineering, architecture, industrial design, furniture design, visual art, music, recording as well as luthier programs and apprenticeship training.
They can include their instrument in a portfolio of work for post secondary application. Including a photograph of your hand made instrument to your portfolio will most certainly gain attention.
Interested students can identify to earn certification and further activities related to the Specialist High Skills Major in Arts and Culture. Graduates of this program may qualify for preferred entry to Sheridan College.
ABOUT FOCUS PROGRAMS
Focus Programs enable students to come together to benefit from specialized equipment and training. These programs are designed to help high school students make well-informed career decisions and to assist with a smooth transition to post-secondary education or the world of work.
Focus Programs are packages of courses offered at Limestone District Secondary Schools that concentrate on a particular field of interest or training to provide students with both academic and work experience that will give them a foundation in a career or area of study.
Focus Programs provide opportunities that are good for all and necessary for some students who find the traditional classroom setting does not meet their needs. Focus provides a specific learning environment, with more of an emphasis on experiential learning. These unique classrooms provide opportunities for students to experience potential career areas in some depth before completing secondary school, leading to better choices for all post-secondary destinations. As well, Focus Programs provide a re-entry opportunity for students who wish to complete secondary school credits but need a strong bridge between prior learning experiences and the classroom setting.
HOW TO APPLY
Visit the Focus Programs website and download the Application Form OR Visit your school's Student Services Office and request an Application Form
Fill out the Application Form and the Tri-Board Transportation Application Form (if required)
Hand forms in to your Student Services Office
Please note, you may be put on a waiting list for the program. Please be patient with the application process.
If you have any questions, seek your Home School Focus Program contact here, or contact your Home School Student Services
THE TEACHER
Mr Gary Pattenden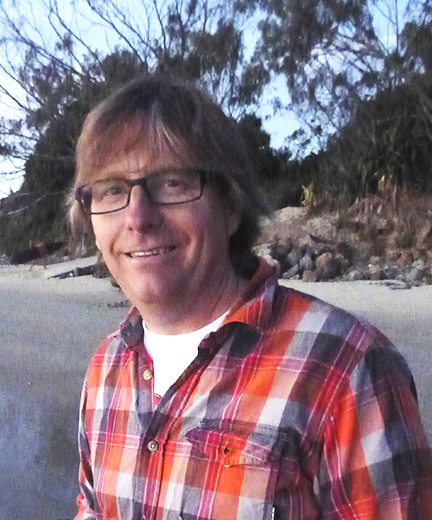 Currently, the Department Head of Art and Technology at K.C.V.I., Gary Pattenden graduated with a diploma in Furniture Design from Sheridan College and a diploma in Technical Education from the Faculty of Education at Queen's University. Prior to joining the Limestone District School Board in 1993, Gary was a self-employed furniture designer, cabinetmaker and retail store fixture contractor. In 1997 Gary transferred to K.C.V.I. to become the Department Head of Art and Technology, and started the Guitar Building Program in 1999.
His passion for the program is founded in his appreciation for youth who play the guitar and /or who enjoy working with wood. With an appreciation for live music he sees the guitar as an object of beauty and technical challenge. Sharing his knowledge of building an instrument with students who are equally passionate to play or build is the basis for his student -teacher partnership
My experience in the Guitar Building Program was awesome! It's really quite amazing to think that all of my peers and I built our own guitars from start to finish in one semester. No matter how difficult the guitar's specs were, Mr. Pattenden was there every step of the way to help the students get it done on time
Mr.P tries hard every day of the year looking for some way to improve student success, safety or overall fun in his classes. Guitar Building is no different, this program is something that I wanted to be a part of day in and day out. The wall of guitars outside the room just show the long list of memories and achievements that Gary has been a part of for dozens of students through the years. I went through it once with something simple, then took it again with something a lot more complex. But it didn't matter how complex it got, if you had the drive Mr.P would be with you all the way 100%. Even if that meant learning new things as you go. I spent three solid years in that room and I still come by watching the new group craft their dreams. 10/10 would recommend this course to anyone looking for something to do with their hands, regardless of their background in the shop or knowledge of instruments.
Guitar building with Mr. P was an incredible experience. He really takes pride in what he does, and is an all around great guy. It was a pleasure to get to know him and learn from him.
"In regards to my working relationship with Mr. Pattenden, I'd say that it's outstanding…He's such a nice person and number one thing I've taken from his teaching strategies is that he creates an incredibly calm and patient work environment and always makes sure every student is completely comfortable before they use any of the machines. This is the kind of environment that many students prosper in and is a complete testament to his positive attitude and reassuring nature
The Guitar Building Focus Program was an incredible experience for me. I graduated from the program in 2011 and I can honestly say that I still use my guitar every day. With the help and guidence of Mr.Pattenden, I was able to build a high quality instrument that will stand the test of time. I left this program with a higher level of craftsmanship than I thought I was capable of. It was an eye opening experience that really helped me shape my future.The only regret I have is that I'm too old do it again!
The guitar building experience was just that, it was an experience. An experience of a lifetime. When I came into the class, I had little to no knowledge on what woodworking even was. Having an enthusiastic teacher who seemed to want to try and better every person that walked in through his classroom doors, made the experience even vaster. Patience and commitment are the two main things I remember and have stuck with me the most. The fact that I found a passion with this has actually baffled me, but I won't argue. I'll never forget this. Great memories, great teacher, great environment. Thanks P.
SPECIALIST HIGH SKILLS MAJOR
Specialist High Skills Major (SHSM) – Arts & Culture
What are they?
Specialist High Skills Majors let students focus on a career path that matches their skills and interests while meeting the requirements of the Ontario Secondary School Diploma (OSSD). Students receive the SHSM's seal on their diploma when they
complete a specific bundle of 8-10 courses in the student's selected field
earn valuable industry certifications including first aid and CPR qualifications
gain important skills on the job with employers.
Who are they for?
Grade 11 and 12 students who are:
heading for an apprenticeship, training, college, university or the workplace.
wanting to identify, explore and refine their career goals and make informed choices about their next steps after secondary school.
How can they help?
Students have the opportunity to:
Gain important skills on the job with actual employers, at skills training centres and at school
Earn valuable industry certifications, including first aid and CPR qualifications.
Learn more on their website.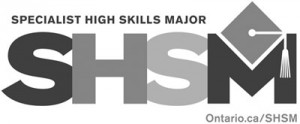 COMMUNITY PARTNERS
A special thank you to…
John Gamache as a community mentor working with the students and sharing his extensive knowledge in Electronics, Repair, and Set-up.
Craig Sindall and the talented students in the Colour Shop Focus Program at NDSS for spray finishing and working with the guitar building students.